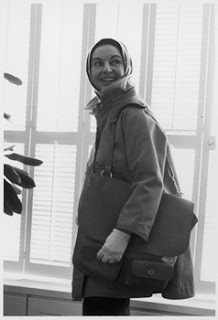 One of "the haves" in my book has always been, Bonnie Cashin.  She believed in designing a chic life. Her motto was, "Chic is where you find it!"  A toggle from her convertible was used in one of her signature
In 1960, she was approached by one of today's venerable institutions in the hand bag world and she declined as she told them she was too busy.  
They waited 2 years for her to join them and design a "Cashin Carry" line of colorful happy bags as well as accessories for COACH.  Adore these happy illustrations. Note the practical hat.  I'd love to know what's in her bag. No Cell phone, nope, no blackberry, no ipod, not even around then.  That bag would look great today.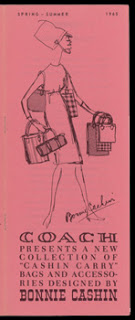 She regarded her very own studio as a "secret laboratory" and traveled back and forth to work in Manhattan from one of the toniest Studios located near the United Nations.  Her real inspiration came from the practical side of life.  She lived right up the Hudson River and what's not to love about her sweet life and her closet which she called it her "boutique."  That's what I call a "have."  I have to have it.  Open, organized, colorful, happy and practical.   This gal was a pioneer in the "ready-to-wear" fashion world.  Casual chic with a glamourous twist yet practical!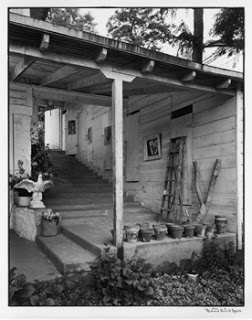 Hats off to Bonnie for inspiring me every day.  She looks so beautiful in this Hat. Perfect for a "box" seat on Derby Day or to block the sun.   This is a gal with the haves.  Does she remind you of anyone?    She would be a "have" on my blog envy list if she were still here today.