There is always "more in store" for me to illustrate and I absolutely love a good store.  I do not discriminate, give me a great hardware store, a bakery, a shoe store, a mom and pop shop- and I will add whimsy and style to your favorite shop!   Many of my clients love to see their shop in the form of art which is unique and original.  The art is used for store mailers, a card, for advertisement, press kit, a web-site and or framed to cherish for years to come.  Stores exist all over the world and virtual stores are a fun way to always find "more in store" while never even leaving the comfort of your very own home.   Besides it is always a treat to open an e-mail with your store sketch or even better the mail arriving at you door.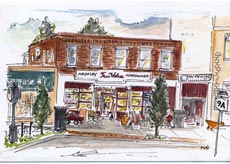 Ardsley True Value Hardware for a can of paint or a new red wagon (above)  This great store is located in Ardsley, NY – otherwise known as Mayberry RFD to some.  A small village where everybody knows your name.  "Joe" is the owner and he is a central part of the store, greeting clients with a smile and a song.  By the way, he is an actor too.
J.McLaughlin
, for Ladies and Men's Fashion now has 40 plus stores.  There were only 3 stores when I began illustrating for them.  My how the J.McLaughlin family tree has grown.  They are open all the time on line.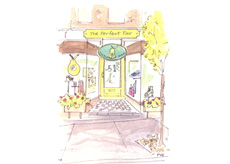 The Perfect Pair
 for a new pair of shoes, a bag, a trinket to brighten your day.  The shop is located in scenic Irvington, NY – right on Main Street.  A charming spot to visit and take a stroll down to the Hudson River.  Ask for the owner, her name is Patricia too.  She is bubbly, energetic and if you want the job done, she is the one to call upon.  Unique shops you will find and a stunning view of the Hudson too!
One of my greatest pleasures are repeat clients who come back to tell me they will open another store.  They are like children and each one is unique and lovely.  I feel like my store illustrations are family heirlooms.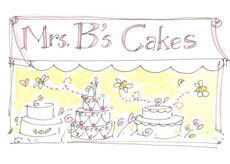 Mrs.B's Cakes,
are baking all the time for you to order on-line for a special birthday or a wedding cake.  Now we could all use a little cake and a cup of coffee, oh, silly me there is a store right down the lane.  I'll meet you there with my paper and pen.