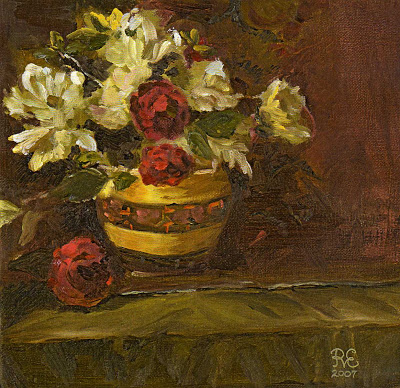 Take time to stop and smell the flowers, especially the rose.  The winner of the Derby not only sets his sight on the money but a bevy of beautiful roses.    This is the only race which the jockey and his horse receives a garland of 564 hand picked roses as well as a "Jockey's Bouquet" with 60 long stemmed roses, plus a trophy.    The payoff  is the rush of two minutes of ecstasy and one big adrenaline rush to get to the finish line.  Why that is less time than it takes to nurse a "mint-julep!"  The thrill is the race.
This oil painting is titled – "Run for the Roses" since I painted it as if I were running a race.  My sweet reward is that they are still in full bloom all year, right down the lane at a bff's home.  
Roses and peonies as well as many other flowers inspire me as an artist, wife, mother, and friend.    Is anyone getting the hint here?   As my bff said, now you know "if they had a blog" – we'd be visiting it all the time!   Pay a visit to one of my favorite florists, the dynamic mother-daughter duo,
BelleFleurNY
.   They will even add mint to the arrangements, mint blends with floral fragrance and provides a sense of tranquility.  Remember to stop and smell the roses.