Horses love a good ranch just as we love a good home. Lucky me to get to draw some of the finest one's around!
Here's a drawing of Mrs.Blandings "Butter yellow" Ranch. She remained calm and fearless in her pursuit of just the right color.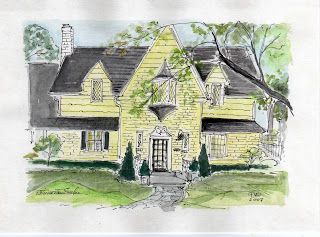 In order for a Horse to give you their best foot forward, one needs to have no fear and to remain calm. I am speaking literally straight from the horse's mouth as when I was visiting my Uncle Earl on his property, he had a horse for his niece who rode and one day I was chased by that horse and he bit me on the back. I was not harmed as I had on a heavy coat. But he sensed my fear and showed me who was boss. A house has the same sort of sensory skill to hone in on your fears. To make it a home, one needs to be calm and remain fearless. We, the mothers of our ranch, literally know when we have created a fearless and peaceful stable.