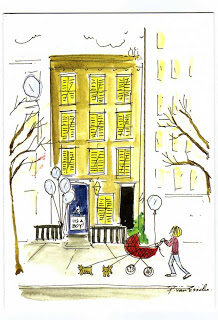 Coming home has a special meaning to each and every one of us.    A visit back to the childhood home, or simply returning home from a long walk to find things as we left them, gives comfort. Home illustrations are special to me, they represent a place of honor and one of memories,  a new home, a new born, ear-marking an anniversary or just a gift to
yourself!  
I work from photographs and never do the same house twice which makes each one original, unless you live nearby and would like me to come and "meet" your home.  If you are looking for something with a personal touch, this is worth the wait as you see I have a "waiting list."  Plus, I can renovate or landscape with-out all the head-ache.  Need a fence or winter to be spring?
After all, there really is no place like coming home, and of course "blogging" all about it.