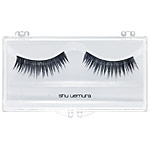 Have you ever wanted to just add a bit of drama to your look?  I have been wanting to purchase a pair of false eyelashes for a special soiree, Tres Audrey Hepburn chic.  I thought about getting these during the holidays, but worried that they may be a bit Phyllis Diller-esque or even worse-
might land in my soup!
Then again, not a big investment to be found at Sephora, and they certainly would add to my wink factor.