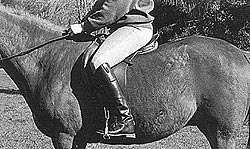 Back in the saddle again, the designer saddle that is.  Mondays are a day to mount that saddle, pens in order, clean paper and water and fresh buckets of paints.   After eating more than just a weekend diet of hay, and running wild, I am back to my"artful stable" and ready for my daily design regimen to commence.  
For years -many designers have been fascinated by the Equestrian Sport and graceful creature and perhaps the winning "purse" – for example the sought after Hermes bag.   Designer Ralph Lauren (my alma mater of assistant design post) all look straight to the Horses mouth for inspiration, bit by bit.  The sport of racing, polo or the art of Dressage have always appealed to the well bred and attracted the elite.  The saddle is from Smith Worthington Saddlery Co., they have been making Saddles since 1794.  
Born and raised in the state of the "Derby", and growing up a stones throw from Rock Creek Riding Horse, I would love to visit the stable and smell that air of luxury.  I would admire the saddle, the horse, the paddock, as well as the lucky riders to be able to afford to partake in such a moneyed sport.  In the summer, I could here the organ playing as the riders were instructed to various commands of the MC at the Horse Show.  The ribbons were even a marvel to me. That said, I never formally learned to really ride, but learned to draw I did.
I was always taking art lessons, and creating and artful world around me-  My mother made sure all 7 of us were never "bored" – just the way Eloise was never bored.  Always something to draw, to paint, to sculpt, to sew, to bake or to play.
My art teacher Mary-Louise Schrodt told me that I was wasting my time with all that other nonsense and art was my "horse" to reckon with.  Black Beauty spoke to me too, you see that was a popular read when I was a girl.  I always wanted a a "Dappled Grey" one.  But I can draw one, and I did, for an advertisement for J.McLaughlin with a shop in Millbrook, NY (horse country) which graced the magazine "Quest."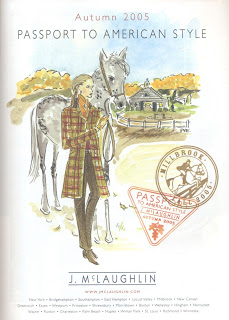 Guess, you can never take the Kentucky out of a girl nor the Horse from one of my inspirations to draw from.   Even my web designer has ties to the Mustang, Mustang Web Designs yet another inspirational breed.  Saddle up and enjoy your ride.  
(One of a pattern design illustrated for a client catering to the well-bred! Used for Men's Ties)  You may see some other work on my site, pve design