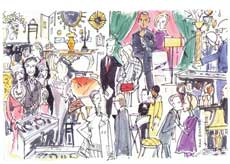 Every Winter, Birds with a penchant for Antiques flock together at the Armory on Park Avenue in New York City which benefits the East Side Housing settlement.
The Winter Antiques Show opened last week and many exhibits were set to display a vast array of American, and European Antiques. Many articles leading up to this high society exhibit tout that you must bring one million dollars. I did not get down to the show but wanted to share this illustration that I had done a few years ago which to me sums up the people milling about as they ponder ways to drop a quick George Apparently there were many items that peaked curiosity and George Washington was one. Every item that makes it to this exhibition must be deemed authentic by the "vetting" community, a tasting committee if you will. Now that's something I could sink my teeth into.
I refer to my life in phases and during the before children phase, many a weekend were spent perusing New York City for Antiques and collectibles that could fill my apartment. Budget and item in mind, each purchase was like hunting for a rare and exotic beast. The thrill was educating my eye and my husband will always say, "I know what I like, but she finds things that are real and valuable, she has a good eye." Returning one afternoon with a brown bag full of Royal Copenhagen "full lace" china all for under a hundred dollars. Where was the vetting committee for those items. A round marble top table hoisted into a New York City Taxi is a fond memory. A inlay mahogany table blackened by lack of care, carried home with one less vote and then was later declared that his vote was the one who spotted it first.
Lost sleep over items that got away or I clearly knew would not fit that months budget, at least if I wanted to eat. Who cares about food when you can have an antique. Educate your eye to things you know nothing about and then get to know them, it is after all simply a matter of taste. As my mother will always say, "Now, how do you know you won't like it if you don't at least give it a taste."